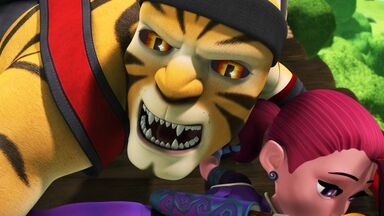 Shintora is a ninja tiger and another villain was summoned by Lord Tenoroc in episode 12 of season 3 The Tigers Eye. In "Raven: Justice League", he didn't win against Versad and Lenat.
Appearance
Edit
Shintora is a skilled ninja- like tiger armed with nunchucks. He wheres a black headband red gloves black pants
Weakness
Edit
Being defeated by a real tracker like Roxie or her father
In the series
Edit
Shintora was summoned by Lord Teneroc to steal Roxie's staff to find the never glade, hidden in the Enchanted Forest!It was discovered that Roxies father trained Shintora to be a tracker.
Your rage gives you strength. (LINMIS [ROBIN]: Don't need a red ring to know that.)
Bird girl make Shintora mad! (TEZAN [HAWKGIRL]: Big surprise.)
Guardians' pawn. (VERSAD [GREEN LANTERN]: Never heard that one before.)
You'd be a perfect Red Lantern! (BERON [BATMAN]: I only come in black.)
Nothing rivals a woman's fury. (DARNA [BLACK CANARY]: And I haven't even been scorned.)
Ready to be crushed, bug? (ROHAK [BLUE BEETLE]: Maybe I should've stayed in El Paso.)
Your blood will spill. (DANIL [CYBORG]: You can't even move the chains.)
Does my power impress you? (DEJAN [DOCTOR FATE]: You deceive yourself!)
Now do you see why red's my colour? (THE FLASH: Alright, we can share.)
This is for calling me a baby! (PHOEBE BUFFAY-HANNIGAN [SUPERGIRL]: Wow. Need a diaper change?)
You're just like me... (SUPERMAN: I'm nothing like you.)
Your anger is intoxicating. (HANSO [WONDER WOMAN]: Get out of my head.)
I can feel your fury. (LIMONN [VIXEN]: There's no animal fiercer than me.)
You burn easily. (EXSIL [SWAMP THING]: I shall endure.)
My rage will consume you! (CLERAL [GREEN ARROW]: You really need to get laid.)
Why mask your anger? (MONICA GELLER-BING [CATWOMAN]: Cat's got have secrets.)