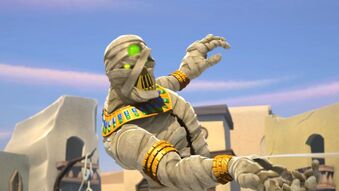 The Mummy is another villain Lord Tenoroc released in episode 4 of season 1 The Rise of the Mummy and his second appeared with Medusa and Redbeard in episode 4 of Season 3 Alliance of Evil.
Appearance
Edit
Mummy has bandages wrapped around him and he wears Egyptian jewelry. On his forehead is a magic jewel that keeps him alive.
Weakness
Edit
Destroy his Afterlive Stone.
Abilities
Edit
Mummy can establish high-swinging bandages to destroy everything blocking their way and also has aerial agility that help him to fly by his high bandages which extends much more than any last extended body and if it his bandages back to him and tracking him, and he has an aerial pursuit that make him clutching his enemies and catch them pretty quickly and he can also used his bandages to take things and throw it on his main goal or his bitter enemies.