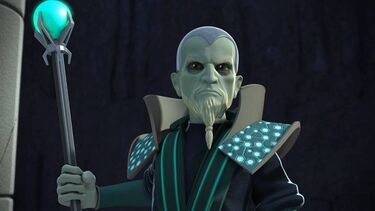 Merlin the sorcerer is a villain that appeared in the episode 4 season 2 The Dark Sorcerer.
Personality
Edit
Although Merlin is the best sorcerer, he is also an irritated swindler that brags too much by himself and thinks that the great super villain (like Captain Lightning) will make it have the most powerful abilities.
Abilities
Edit
Merlin has a supernatural mystique shield can not any good power destroy it or breakthrough it and has a great magic wand steals whereby the motion from limbs of his enemies and controls in both the movement and the gravity, also has the ability to control the forces of nature, has also a dark magic and by him can destroy anything he wants and turn it to ashes, he can go anywhere he wants by hitting his magic wand on the ground and he can use his alchemy to eliminate all his enemies in addition to that he is the best ever sorcerer who is also a very evil genius.
He can be defeated easily by reflecting his dark magic back to him, and breaking his Magical Staff.